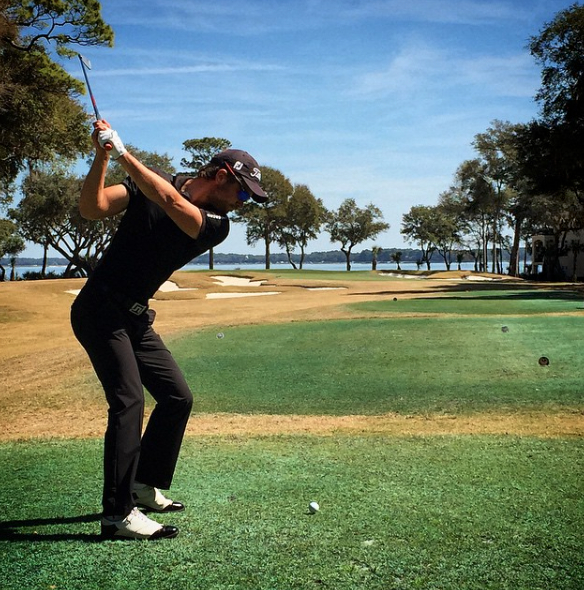 WOS-GOLF TRAINING:
WOS GOLF is the program for you who want to improve your physical abilities to become a better golfer. It is perfect for those of you who are beginners or intermediate golfers and want to lower your hcp by increasing your core strength, core stability and mobility/agility!
Recommended by Oscar Stark, European Tour & Challenge Tour player.
You train 30 minutes per day where you follow a training program based on our unique training method. You strengthen, build and balance your body for maximum strength and posture. The training can be done just as well at home as at the gym.
You get about 36 exercises in total.
- You get a new one every day (after day 3).
- The program includes cardio, strength and core training as well as dynamic stretching.
- The exercises are both functional and effective.
- All exercises are presented in a video format that is easy to understand.
- You don't need a gym card or expensive training equipment.
YOU GET THE FOLLOWING RESULTS:
– Increased basic strength
– Increased trunk stability
– Better mobility/agility
- Firmer butt
- Flatter stomach
– Slimmer waist
- Reduce weight and fat percentage
- Change in your body shape
- Reduced stress
- Increased fat burning
- Better and smoother mood
- Reduced sugar cravings
- Better posture
- Better muscular balance
YOU GET STARTED FAST AND EASY:
- You train at home and only need an area of ​​2 x 2 meters
- You only use a couple of dumbbells
- You do not need a gym card or expensive exercise equipment
- No counting calories - all recipes are already ready
As a member, you can chat LIVE with our trained PTs and get answers directly to your questions!
YOU GET ALL THIS:
- Already calculated and ready weekly menus / diet programs and shopping lists that show how much, what and how to prepare the food (breakfast, lunch, dinner and snacks)
- Over 450 low-calorie, good and easy-to-prepare recipes (normal / vegetarian / lactose)
- Access to 18 effective and unique training programs
- Effective and pedagogical exercises in video format
- Access to our closed Facebook group where all our other trainers are
- Support, support / chat and answers to your questions by our Personal Trainers
Our easy-to-follow training videos show how the exercises should be performed.
Price: Only €29 (then optionally €9 per month for all our 18 programs)
Period: 30 days
Account activation: Immediately after payment for best results
Binding period: None