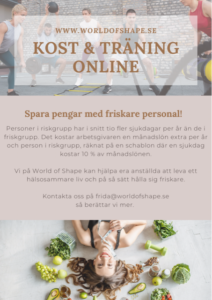 WE HELP YOUR COMPANY'S EMPLOYEES TO GET STARTED WITH THE TRAINING
Save money with healthier staff with the World of Shape diet and exercise program!
People in the risk group have an average of ten more sick days per year than those in the health group. It costs the employer an extra monthly salary per year and person in the risk group, calculated on a standard where a sick day costs 10% of the monthly salary.
We did a test with Enköping Municipality:
- Before was 72,2% in the test group in the risk group and 19,4% in the healthy group.
- After 30 days of training with us was 30,6% in the test group in the risk group and 66,7% in the healthy group.
We managed to increase the number in the healthy group from 19,4% to a full 66,7% !!
Saved money for the company:
With an average monthly salary of SEK 25.000, the municipality of Enköping saved SEK 425.000 / year.
See attached file for more information.
Do not hesitate to contact Frida frida@worldofshape.se for more information.
ARE YOU EMPLOYED?
We are partners with both Wellnet and Epassi from whom you can easily buy our services and use your wellness allowance.
If your company does not cooperate with Wellnet or Epassi You will of course receive a deductible receipt (which you can use) when you buy your training from us at World of Shape!
We are also one FaR-certified online training company which meets the requirements and is part of the FaR leader network Farledare.se. We have since helped over 50.000 to get started with their training with our unique training method. This means that we offer both fun and safe training for you who have received physical activity on prescription.
Upon presentation of a FaR prescription, you will receive a 15% discount on all 30-day programs.