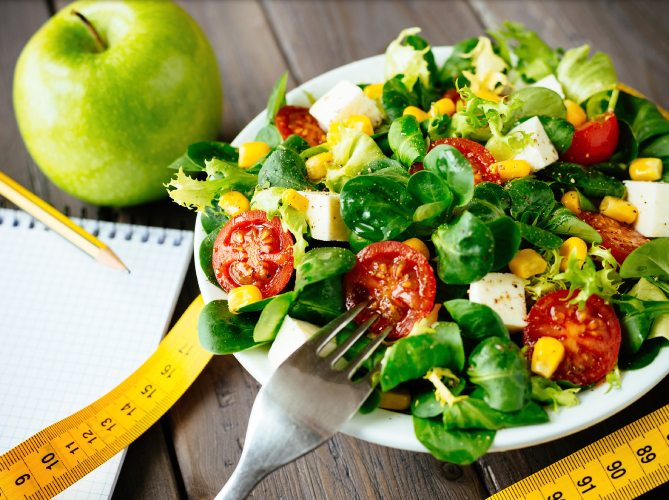 FOOD-IN-SHAPE:
HAVE YOU DIFFICULT TO EXERCISE / MOVE BUT STILL WANT TO TRY TO LOSE WEIGHT? ARE YOU EXERCISING NOW BUT DON'T REALLY KNOW HOW TO EAT USEFULLY? YES, THEN YOU SHOULD CHOOSE FOOD-IN-SHAPE AND GET IN FORM WITH OUR WELL-BALANCED DIET!
You do not need to exercise to lose weight. The diet is about 70-75% of the weight loss, the rest is exercise.
So you have a hard time getting started, maybe have injuries or pain when you perform a physical activity, BUT still want to lose weight, well then you should choose Food-in-Shape!
With Food-in-Shape, you get hundreds of low-calorie, easy-to-cook and good recipes and support from our trained PTs. It is an unbeatable combination to get started and get a weight loss, both short- and long-term.
Our recipes are also lactose-free and vegetarian, so of course this suits you even if you have special dietary needs. Our diet programs are also designed so that you can choose which foods you want to eat within the framework of certain guidelines.
YOU GET THE FOLLOWING RESULTS:
Loses weight and lowers fat percentage
Gets fitter and gets more energy
Reduces sugar dependence
Strengthens the immune system and feels better
As a member, you can chat LIVE with our trained PTs and get answers directly to your questions!
YOU GET ALL THIS:
Already calculated and finished weekly menus / diet programs and shopping lists that show how much, what and how to prepare the food (breakfast, lunch, dinner and snacks)
Over 450 low-calorie, good and easy-to-prepare recipes (normal / vegetarian / lactose)

Access to our closed Facebook group where all our other trainers are

Support, support / chat and answers to your questions from our Personal Trainers
said about food-in-shape:
So this week's food - I just love everything already! Hope it tastes as good as I think it will! "
/ Rebecca
"The whole family could eat the same food as me and the diet program was really easy to follow."
/ Elisabeth
"I have not gone hungry or exhausted but with full force and speed towards new goals every day during these 30 days, and just like that I will let my life go on!"
/ Daniel
"The diet concept is very good, and I really like that you eat so you never have to go hungry, plus it is ordinary and very good food."
/ Matilda
"For me who has lived on junk food for several years, this was a real challenge.
I will continue and it has definitely changed my view of food. If I can get to grips with this, everyone can do it! - :) "
/ Sonny
"For me as a sugar addict, the first days were really tough, but after less than a week, everything started to roll on just by the speed. It actually felt so easy! I who also do not like to cook have realized that I do not have to bother about it but that it can be really easy to cook good food. "
/ Anna
"The food has been fantastic and the energy has really been there thanks to the fact that it is real (and good) food. And then I have really tried most things before! "
/ Sofie
"It is a good and inspiring diet program that was easy to follow with good recipes!"
/ Emelie
"I thought I would walk around and be hungry all the time, and feel craving sweets all the time but I was pleasantly surprised when this was not the case! I will recommend everyone I know who is ready for a change! "
/ Emma
Have tried so many diets but have never succeeded. But now finally I have also managed to change myself and I feel so good and am so happy. These are simple and easy recipes to follow. I recommend it for a better lifestyle and well-being. "
/ Jasmine
Price: Only SEK 199 (since optionally SEK 79 per month)
Period: 30 days
Account activation: Immediately after payment for best results
Binding period: None