FITNESS FIGHT TRAINING:
Fitnessfighten is our most popular and effective 30-day program that is for you who want to get a "kickstart / challenge" on fat burning, weight loss and "shape / tone" the body.
You get about 36 exercises in total and a new exercise every day (after day 3). The program includes cardio, strength and core training as well as dynamic stretching.
You follow a training program based on our unique training method where you strengthen and balance your body for maximum results and posture. The training can be done just as well at home as at the gym.
You get about 36 exercises in total.
You will receive a new one every day (after day 3).
The program includes cardio, strength and core training as well as dynamic stretching.
The exercises are both functional and effective.
All exercises are presented in video format that is easy to understand.
You can vary your training with group training sessions or longer cardio training if you want.
You do not need a gym card or expensive exercise equipment.
YOU GET THE FOLLOWING RESULTS WITH OUR MOST POPULAR AND EFFICIENT PROGRAM FITNESSFIGHT:
- Firmer butt
- Flatter stomach
– Slimmer waist
- Reduce weight and fat percentage
- Change in your body shape
- Reduced stress
- Increased fat burning
- Better and smoother mood
- Reduced sugar cravings
- Better posture
- Better muscular balance
YOU GET STARTED FAST AND EASY WITH THE FITNESS FIGHT:
- You train at home and only need an area of ​​2 x 2 meters
- You only use a couple of dumbbells
- You do not need a gym card or expensive exercise equipment
- No counting of calories - all recipes are already ready for maximum weight loss
As a member, you can chat LIVE with our trained PTs and get answers directly to your questions!
YOU GET ALL THIS WITH THE FITNESS FIGHT:
- Already calculated and ready weekly menus / diet programs and shopping lists that show how much, what and how to prepare the food (breakfast, lunch, dinner and snacks)
- Over 450 low-calorie, good and easy-to-prepare recipes (normal / vegetarian / lactose)
- Access to 18 effective and unique training programs
- Effective and pedagogical exercises in video format
- Access to our closed Facebook group where all our other trainers are
- Support, support / chat and answers to your questions by our Personal Trainers
Our easy-to-follow training videos show how the exercises should be performed.
Louise got "extremely good results and muscle definition" with Fitnessfighten.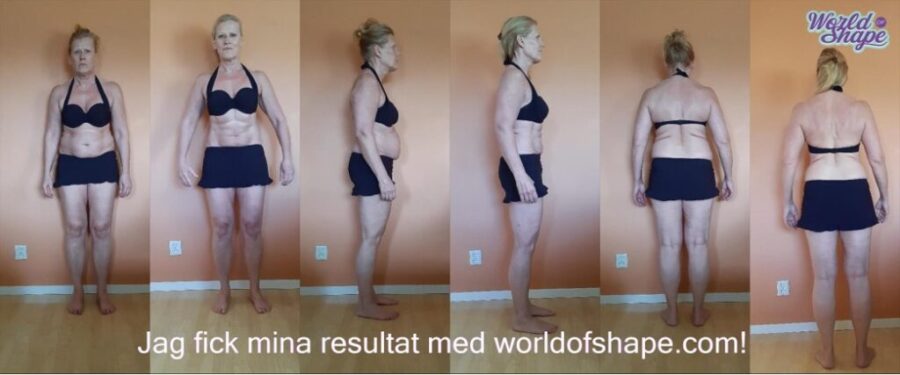 Eija's results in just 30 days with Fitnessfighten:
Weight: -6 kg
Waist: - 7 cm
Resting heart rate: - 6 beats / minute
"I already knew that training with World of Shape gives the fastest, most effective and best results both physically and mentally.
I wanted to prove to myself and everyone else, both young and old, that it is never too late to start training.
I recommend World of Shape to everyone, not least to "mature" women to get rid of their age-related ailments.
I will continue to train with World of Shape in the future. Now I have chosen the program Big and Strong and look forward to sculpting the body by building muscle and sharpening the physique. "
The winner Therese and her fantastic results in just 30 days with the Fitnessfight:
Weight: -12 kg
Waist measurement: -8 cm
Pulse: 11 beats / minute
"MAGICAL is really the right word! Life as a mother of small children has been a tough dance. Have felt that the energy did not exist and that it has been difficult to just get up and down on the floor. Sitting on the floor for a long time caused back pain and the energy was gone after half a day of play. Just saying OJ WHAT A CHANGE in such a short time!
Thanks to World of Shape with their fantastic training and food concept in the FITNESSFIGHT, I am already where I had the goal to be this summer - in ONLY 30 days! A training concept that can be performed both at home or in the gym and food that suits the whole family.
What a dance on roses everything became! For a month I have been struggling. Body and bud have had a life change to the positive, which I 100% needed. These results are absolutely MAGICAL! I myself am incredibly happy with my journey so far. If there was a superhero as a mother, I could take the role now. Jokes aside, thank you very much! "
❤️ Much happier and stronger as a human being
❤️ Have energy from morning to night!
❤️ I manage to be the mother I want to be to my children
❤️ Can run twice as far at a nice pace than I have been able to in my whole life
❤️ Can do push-ups (never been able to before)
❤️ Feels like I have an incredibly nice and even balance between abdominal and back muscles (which I missed from the cesarean section and this has affected extremely).
❤️ Will be back in my old clothes that I had a long way to go to even close.
❤️ The craving for sweets is gone!
Price: Only SEK 299 (then optionally SEK 99 per month for all our 18 programs)
Period: 30 days
Account activation: Immediately after payment for best results
Binding period: None